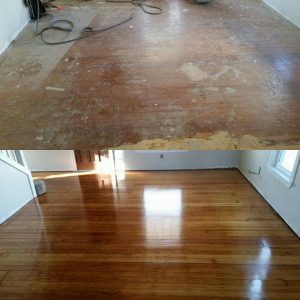 How are the hardwood floors in your home looking today? If they're visibly scuffed, have suffered staining and damage, or look dull and downtrodden, it might be time to have them maintained or refinished. Rockholt Hardwood Floors, LLC offers complete hardwood floor refinishing in Amarillo, Washburn, Potter County, Randall County, and Bushland, TX, to breathe new life into your timeless hardwood floors. We offer a full and complete scope of hardwood floor repairs alongside our flooring installation services in Amarillo, TX, to restore the luster and value of your floors. Our breadth of expertise includes:
Hardwood Floor Staining
Want to reinvigorate the color of your flooring or change its hue? We offer staining as part of hardwood floor refinishing in Amarillo, TX. With a nearly infinite number of colors to choose from, we're happy to match your ideal vision for the perfect shade.
Hardwood Floor Repairs & Restoration
Deep gouges, staining or warping all demand invasive restoration. Our team tackles these restoration projects to return your home's flooring to the luxurious aesthetic it was meant to showcase.
Hardwood Floor Sanding
Surface blemishes and scratches may just need a quick sanding to erase. Count on us to sand down your floor's surface evenly, to erase all evidence of wear before bringing it back to life.
Hardwood Floor Maintenance
From buffing and polishing to poly hardwood floor repairs and more, we're the experts to call when you need basic maintenance for your floor. We put in the little fixes here and there to prevent the need for a full and complete hardwood floor refinishing in Amarillo, TX.
Proper maintenance for your hardwood flooring will help keep it looking great, while also extending your investment. With Rockholt Hardwood Floors, LLC overseeing the work, you're guaranteed results you can see, each and every day.
Contact our professionals today about your hardwood flooring and set up a consultation. We'll evaluate its condition and recommend services that restore its beauty and integrity once again. Contact us today by calling 806-674-7634.